FREE Download: Branded Apps Comparison Chart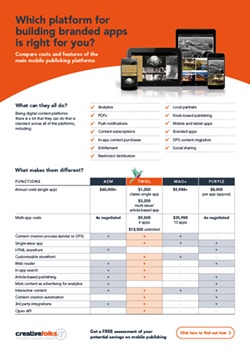 Which platform for building branded apps is right for you?...
Download our branded app comparison chart to see which features the four major app building platforms have.
We compare: AEM, Twixl, Mag+, and Purple DS
You will discover:
The annual costs to host and distribute your app/s with each of these 4 major platforms (ranging from $1250 to $60,000 for a single app).
The 13 features these app building platforms have in common (e.g. social sharing, analytics, and in-app purchases).
Which app platforms have advanced features such as web readers, customisable storefronts, in-app search, integrations, open APIs, and more.
Whether you're part of an agency or a brand, this comparison chart of the four major app platforms on the market today will help you choose the best platform for your mobile publishing needs.
Enter your details for instant access to this 1-page PDF containing a comparison of branded app builders.